When is PE Stamps open?
We are open Monday through Friday, 8:30am- 4:30pm EST, excluding holidays.  You may view our holiday schedule here.
How do I receive my electronic stamp?
Electronic stamps are delivered via email only. Files will be emailed to the email address entered in your order.  Please check your spam folder before contacting us.
How do I receive my FREE electronic stamps?
Free JPEG and PDF files are now offered for physical stamp purchases for Engineers, Architects, Landscape Architects, Land Surveyors, Geologists and Interior Designers. Free files are limited to state specific stamps and exclude signature stamps, custom stamps, and notary stamps (due to state requirements).  Free electronic files are delivered via email within 24 hours when the order is received during normal business hours. Free electronic stamps may not be sent as quickly as our purchased electronic files.
How do I use my electronic stamp?
There are many programs in which your electronic files may be used. We have provided some tips for using your files in a few popular programs on our How To page.
When will I receive my electronic stamp?
Electronic stamps will typically be emailed within 2-3 hours if ordered before 4pm EST Monday- Friday. Electronic stamps with signatures may take longer than these time frames. Please note, we cannot make your signature stamp until we receive your signature file (either uploaded in your order or emailed to us).
When will I receive my physical stamp?
Most orders received by 3pm EST are shipped the same business day. Expedited orders received by 3pm EST are guaranteed to be shipped the same business day. Processing time can be delayed due to missing or incomplete order or shipping information. Processing time does not include shipping time.
USPS Priority Mail Delivery Time Estimator from our location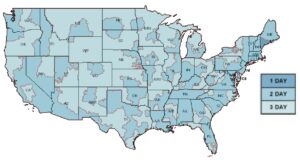 UPS Ground Delivery Time Estimator from our location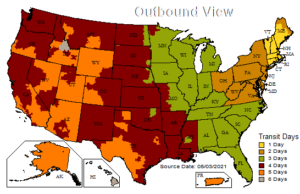 What is order expediting?
Our expediting service guarantees your order will be processed and ready for shipping the same business day when placed Monday- Friday by 3pm EST. If you order a proof, your stamp will not be made until we have received your approval. Approved proofs must also be received by 3pm to guarantee same day shipping. Order expediting does not affect shipping speeds.
Will I get my stamp the next day if I choose order expediting?
No. Order expediting only affects the speed at which your order is made, not the shipping speed.
Will I get notification that my order has shipped?
You will receive an automatically generated email from our system when your order is placed and when it has shipped (with tracking information). If you do not receive these emails, please check your spam folder.
How much does shipping cost?
We offer free UPS Ground shipping to the contiguous United States,  Other methods of shipping incur an additional flat rate charge. Our other shipping methods are:
-USPS Priority Mail
-UPS Second Day Air
-UPS Next Day Air
Not all shipping options may be available for international orders. You can view our full shipping policy here.
Do you ship internationally?
Yes, we will ship your stamp internationally. International shipping fees apply. If you experience difficulty when placing your order, please contact us at support@pestamps.com
What happens if my package gets returned to the sender?
If your stamp is returned to us as undeliverable, we will contact you to obtain an alternate address. A $10 postage fee will need to be paid before your stamp is reshipped. Occasionally our shipping software will flag an address if it is incomplete or unrecognized. In these situations, we will contact you to verify or update your address in attempt to avoid delivery delays.
Do you sell replacement ink for my self-inking or pre-inked stamp?
Yes, we sell replacement ink for our current stamp models. We offer replacement ink for our stamps in black, blue, red, green and purple. Ink pads and replacement ink can be purchased from our Stamp Accessories page.
How do I care for my stamp?
The manufacturer of your stamping mechanism has included all necessarily accessories for properly storing your stamp (ie: caps, boxes, etc). Keep your stamp in a dust-free environment of moderate temperature. Extreme temperature changes can affect the adhesives and inks used in your stamps and seals resulting in poor quality imprints or stamp malfunction.
How do I use my embosser?
You can find instructions for assembling your embosser on our How To page. Your embosser seal was created using Delrin. Delrin is a light-weight, rigid, wear resistant type of plastic. Your embosser should only be used to emboss one sheet of standard weight paper (approximately 20-32 lbs) at a time. Using your embosser on multiple sheets at a time or on other materials may cause your embosser insert to bend or bow which is not covered under our guarantee.